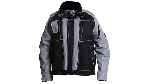 Blåkläder 404013708899 Jacket
( 1 Review )
We are currently unable to show all models available.
New purchasing options coming soon, please check back another time.
Blaklader Craftsman Jacket as been manufactured using Sanforized tightly woven cotton twill material. Soft, comfortable but hard wearing cloth. This garment resists weld spatter and grinding sparks, but is not treated for flame-resistance. Oko Tex 100 Certified. Ideal for use by many tradesmen exposed to many risks in a working environment.
Overall Rating
This product has 1 trade

Reviews
This product has 0 trade

Questions
This product has 0 trade

Video Reviews

1 Results

0 Results

0 Results
Review
for Blåkläder 404013708899 Jacket

by J.McKie plumbing & heating

6th April 2017
Brilliant Stuff Best going in my opinion wouldn't use out else Highly recommended To other people Customer service great too
Brilliant Stuff Best going in my opinion wouldn't use out else
Highly recommended To other people Customer service great too
---