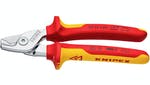 KNIPEX StepCut Cable Shears
( 6 Reviews )
We are currently unable to show all models available.
Small, light, strong: comfortable cutting without crushing and just 160 mm in size.
Noticeably less effort: the gradations cut wires one after the other; cutting is up to 40% easier than with standard cable shears of the same length!
Ergonomic handle design: optimal cutting feel even for larger cable diameters.
Cuts multi-core stranded copper and aluminium cables up to Ø 15 mm (50 mm²).
Cuts solid copper and aluminium cables up to 5 x 4 mm².
Cuts without crushing. 
Bolted joint: precise, effortless, durable. 
Cutting edges additionally induction-hardened. 
Pinch guard fitted for safe work. 
Not suitable for steel wire and hard drawn copper conductors. 
Cutting capacity copper cable, multiple-stranded: 50 mm²
Cutting capacity copper cable, multiple-stranded: Ø 15 mm
Read more
Show less
This product has 6 trade

Reviews
This product has 0 trade

Questions
This product has 0 trade

Video Reviews

6 Results

0 Results

0 Results