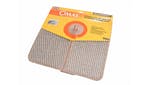 Monument OMAT® Soldering Matt
( 93 Reviews )
Buy it now
The Monument OMAT® Soldering Mat is a patented cut out mat for soldering copper pipes from 15-22mm in diameter. It reduces the risk of fire, and its unique shape with overlap gives a tight and secure fit. Unlike conventional soldering mats the OMAT® wraps around the pipe offering complete protection to the surrounding surfaces.
The OMAT® is constructed from a woven glass fabric and does not present any of the hazards associated with asbestos materials. Additionally, it is stitched all around and will resist temperatures up to 600°C.
Read more
Show less
This product has 93 trade

Reviews
This product has 0 trade

Questions
This product has 3 trade

Video Reviews

93 Results

0 Results

3 Results

21st May 2021

Show transcript

Hide transcript

Hello. So another quick review on, this time, the Monument Omats I've been sent, to have a go with. So it's just the heat mats, which for me, it's been the one of the hardest things to find that's actually good. Heat mats get a fair bit of hammer to be fair, but I've had a few different ones and these are definitely the best. We've got a great little feature on them, which is for the 15mm pipe to fit through. Obviously 22mm will fit but it's more really for 15. I do a lot kitchens first fix, second fix.

So I like to put the M3 copper inside under the unit. So when you are soldering under a kitchen cupboard, it's really hard not to burn the back of the cupboard and that, and also the big one. Fantastic for that really, nice, neat joint, no burns or scorches on any of the wood. As you can see this one's had some right hammer and I've had it for about two weeks. Plenty bendable, it's all stitched up as well, so it's not fraying but this is the Rothenberger one, and I had that about a week, week and a half. And it's just absolutely knackered, look at that. There's a big hole in it. All the heat proof stuff fell out. It Goes all the way through that, look.

So you think you are soldering and not burning anything, and then you pull it away and it's just absolutely knackered the cupboard up. So yeah, really impressed. They've got the little loops on as well if you want to hook it onto anything like you soldering bag or whatever, I just put mine in my little, Monument Sweatbox. So it just fits in there nice. Yeah. Again, can't recommend it enough. Fantastic. Definitely the best I've used anyway, there might be better on market that I'm not aware of, but yeah, this is definitely my favourite for now, anyway. Nice one.
---
21st May 2021
Show transcript
Hide transcript
My name's Sean from Gas Patrol and today we're doing a review for Tool Talk on the Monument Omats. Now they come in two sizes. They come in the large and a smaller size for getting into tight spaces. Come with a hook to hang them up or to try and support them up in some way. And they also got a nice little cut out for either 15mm or 22. Now the cutout is a very, very good design because it allows you to wrap it around pipes and hold in place without slipping down and avoid you from catching the wall. To you use it, you simply wrap it around like so and there we have it. It's not falling down like a previous mat would where you'd put it up and then it just slip down, and you have an absolute nightmare trying to get it to stay in place.

Let's give it a go and see what it's like. Okay. Let's take it off and then got quick look. And there we have it. Absolutely no scorch marks on the wall. None whatsoever. Very, very good mats and it holds in place very well. I really like it. Definitely worth buying. And thanks again, guys. Monument Omats. Thanks a lot.
---
21st May 2021
Show transcript
Hide transcript
Hi there. My name is Andrew from ATR Plumbing and today I'm reviewing the Monument Omat that have been sent to me by Tool Talk. So it comes in a 300mm square mat and 150mm for smaller areas. And what's good about these mats is, it comes with a hole, a 15mm hole for your copper pipe work and a flap to protect the wall. For an added security, it's double stitched and it's all stitched around the outside. It also comes with this hook ring so you can hang it on a wall. What's really good about it, if you solder a pipe on a wall, like what I've set up here, normally a mat would just fall down the back of these. But because this has the 15mm hole to slide over the pipe, you can just put it like that and then solder your pipe. You haven't got to worry about this fall and burning the wall. So, it's a very good product.

A lot of the maps I've had previously, as I'll show you, they don't really stand up too well to the heat. They may be cheaper than the Monument, but they certainly don't last as long and they don't protect the customer's wall after a certain amount of time. So I'm very impressed with the Monument Omat. It's definitely the best soldering mat I've ever owned. So, yeah, great product. Again, Monument, I'm very happy.
---