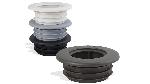 PipeSnug
( 16 Reviews )
We are currently unable to show all models available.
Replaces need to 'make good' around pipes where they exit the wall
For use with boiler condensate pipes and kitchen/bathroom waste
Installs in seconds
Professional finish
Fits all makes of solvent weld waste pipe elbow
Air and water-tight seal
Cheaper and cleaner than traditional methods
PipeSnug has 16 trade

Reviews
PipeSnug has 2 trade

Questions
PipeSnug has 0 trade

Video Reviews

16 Results

2 Results

0 Results

Any one usein these do you have to core out bigger hole. Do you have to still fill hole or just bung these in cheers

Asked on 7th December 2018 by Westons Plumbing & Heating Ltd

I used it recently for the first time, does make a difference the finish looks good. I used for 40mm waste and needed to drill a 52mm hole, the Solvent elbow will sit in the fitting but a push fit wouldn't.

Answered on 9th December 2018 by BPH - Blakemore Plumbing And Heating
---
Any one useing these ??
Asked on 7th December 2018 by Westons Plumbing & Heating Ltd
---