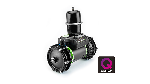 RP75TU
( 0 Reviews )
We are currently unable to show all models available.
New purchasing options coming soon, please check back another time.
The RP75TU pump is a centrifugal 2.2 bar twin shower and whole house pump, suitable for boosting water in negative head, gravity-fed installations. The centrifugal impeller means this pump will offer an extra boost to your shower or system, and with a noise rating of only 50.2 dBA, is quiet with it.
Overall Rating
This product has 0 trade

Reviews
This product has 1 trade

Questions
This product has 0 trade

Video Reviews

0 Results

1 Results

0 Results
How much is the pump? Regards
Asked on 11th February 2019 by The London Electrical Compliance Company LLP

This question does not have any answers.
---