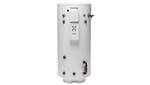 The Mixergy Tank
( 10 Reviews )
AN INNOVATIVE APPROACH TO HOT WATER
Volumetric Heating
Only heat what you need. Save <20% on hot water bills by reducing energy wastage. See how much hot water you have at any time via the gauge or the Mixergy App.
Heat Quicker
Mixergy tanks deliver hot water up to 5x faster with electric and up to 2x faster with gas compared to conventional tanks.
Never run out!
Build a schedule that ensures you always have enough water available. Our Machine Learning optimises how much to heat and when, preventing you from running out!
Change Heat Source
Heat your water with a range of energy sources: Gas boiler, electric, solar PV, solar thermal or even heat pumps!
Voice Control
Control your tank with the power of your voice. Whether using Google Assistant or Alexa, you can request a boost, find out your hot water level or set the hot water temperature.
Heat Pump Ready
All Mixergy tanks are heat pump ready, so it will work seamlessly should you change your energy source in the future.
It will also work with solar PV or hydrogen boiler replacement.
Read more
Show less
The Mixergy Tank has 10 trade

Reviews
The Mixergy Tank has 0 trade

Questions
The Mixergy Tank has 0 trade

Video Reviews

10 Results

0 Results

0 Results