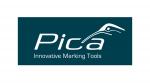 Pica develop their products to be helpful tools for daily professional use. This requires highest quality in construction, material selection and workmanship. Their pencils are made to be like your favourite tool: durable, economic and with a product design you find real pleasure in every single day.

Pica Markers innovative capacity is made visible in various world's first:
Pica invented the "deep hole marker" and the "turnable nib". Pica-Ink is the only marker with removable writing nib, so you can turn the dried out nib easily, giving your marker a second life, as it soon regenerates all by its own.

Another invention, exclusively available in every Pica-Ink is the "telescope tip". Just like a slidable telescope, the guiding tube adjusts to the nib length over a range of 7 mm for a triple life span of the sensible writing nib.

The blueprint of a "quiver-like-cap" was not known until Pica marker invented it. Pica-Dry holds another novelty with technical ambition in its robust sharpener, integrated into the cap for a perfect function.

The latest unique development of Pica is the Pica BIG Dry, the first mechanical pencil for giant square leads, built tough for heavy duty. It is protected against dust and moisture and offers an extremely long marking capacity with every single lead.

Again, Pica marker took new ground presenting Pica VISOR – a board marking system based on dry gel crayon – for simple dry erase, but impossible to dry out.
Read more
Show less
This product has 15 trade

Reviews
This product has 0 trade

Questions
This product has 0 trade

Video Reviews

15 Results

0 Results

0 Results