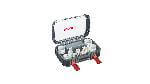 Bosch 14 Piece Progressor Holesaw Set
( 53 Reviews )
We are currently unable to show all models available.
Progressive laser-cut tooth geometry allows quick and steady cutting into most plastics, wood and metals, including stainless steel. HSS bi-metal construction with 8% cobalt alloy for extreme resilience and long life time. Progressive tooth strip for high cutting performance and fast chip clearance. Power change adapter for fast and safe attachment and release of the pilot drill bit and holesaw. Supplied with robust storage box with rubber gum protection, foldaway handle and transparent lid.
• Power Change Arbor & Pilot Drills Included
• Fast Chip Clearance
• Good Cutting Performance
Read more
Show less
This product has 53 trade

Reviews
This product has 0 trade

Questions
This product has 1 trade

Video Reviews

53 Results

0 Results

1 Results

23rd January 2018

Show transcript

Hide transcript

Hi, you're watching Tool Talk. I'm Ben Curry from Electrical Innovations in Darby and today I've got a selection of tools in front of me and I think I'm going to talk about the Bosch Hole saw Set.
I think this was at Screw Fix. It was on offer and it's actually pretty good. But the best thing about it is the packaging but I'll get into some of the things that I like and don't like about it.
It's not a super positive review but hopefully it's going to be a good all around review.
Everyone likes to show of the things they're super happy about but this one's got some pros and cons.
So first off, the really cool thing about it is the fact that it comes in a really nice box. It's got the sticker on here, say, "Best Packaging 2014."
I don't know who's giving out the, here you go, German packaging award because German packaging's giving out the awards. And you can see you got a whole bunch of hole saws in there.
So first off, the whole kit is based around one of these. These go into your drill. It's a quick release chuck.
What's nice about it is a 10 mil centre so it goes into your drill. Some of the cheaper combo smaller drills like this won't take the larger accessories, but it won't go straight in.
So then you've got a quick release mechanism to take out your centre bits. And then also your cutters have got the same way of going in.
So that's that really. The fact that how quickly this can be changed in and out and put in different sizes, you can see how useful it might be to work with.
So that's one of the main positives of it. Packaging, keeping your hole saws all safe and organised.
You've got room in here and see, I've actually got two. You might have seen a previous video with two Bosch drills. I like to have as many tools, different types, as I can get my hands on if I think it makes things more efficient and faster.
If you've got a 25 and a 20 because you're drilling different holes because you're using different conduits and adapters, or if you've got spotlights on the hole and so I think you've got eyeball sparks.
That's the reason you still have two on the go and when you've lost one or left one on a drill bit. It's also helpful.
So that's what I like about it.
One of the things I don't like is that they're rough cut. Now, anyone who needs a fine cut to things like that and as you can get a fine cut.
don't think they actually say on the box that it is a rough cut. It says it's a progressor for wood and metal but it doesn't say that it's a corse tooth but when you look at it, the teeth are quite wide and quite far apart so what you find is it's sort of when you're drilling, but once you drill a hole in plaster board or wood, getting the centre bit out of the centre is quite tough sometimes.
And even when you can do quick release and then drive it through to the centre bit, it's still quite tough and quite often you need to clear it between cut every time rather than being able to do three or four cut at once and the just sort of shake it around, let it fall out.
So not very often you can do that and it falls out so that's one thing I don't like about it.
The other thing is that very expensive. I think the basic kit like this, I got for that 32 or 40 quid and I can't see up here what was in it but I got six cutters in this one.
They do a bigger version. Again, this is Screw Fix prices. You can go online and find them anywhere. They do a bigger version with about 10 or 12 different cutters in, a real discounted price but then when you come to find it around, particularly the popular sizes like the 56, 64, 72s, you're looking at 15 quid a cutter.
So they're not massively expensive. Not far off that but they are still pricey.
I have had a problem with one of these. I lost the ball bearings so the centre of those is ball bearing which locks in on this to stop that from falling out.
I lost one of them. It just popped out and went. So I just took the whole set back to Screw Fix and they changed the centre. I did think for a second they were going to change the whole set and all my worn out old cutters but they didn't. They just changed the centre because it's one thing.
I know a lot of people don't like Screw Fix at all. It's the DIY-ers place but when you go to Trade Counter and the old boy in there grumbles at you for it on credit loan, Screw Fix they don't care. It's run by kids who won't sack your stuff or whatever.
They just do not care and they just give you an exchange. It's no questions asked whatsoever. So that's why I like certain things.
So that's the Bosch hole cutter set. There's probably a proper name actually which I guess I should find for you. I think it was the Progressor Set.
Here's me organising my set now live on YouTube. Probably the best way to do things but yeah. It's the Bosch Progressor for wood and metal. Comes in a nice kit. Keeps it more safe in the package.
Yeah, it's very cool. I can definitely recommend this. I don't use anything else now. Does have it's downsides but I think the pros far outweigh the cons.
Okay, so thanks for watching. I'm Ben Curry from Electrical Innovations in Derby and this was Tool Talk.
---