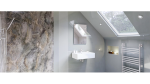 Classic Collection
( 0 Reviews )
We are currently unable to show all models available.
Multipanel Classic wall panels are 9mm waterproof plywood core with a high pressure decorative laminate bonded to the face. Available in standard and premier surfaces the Classic Range is our most popular. We have a wide selection of colours and textures in stock designed to complement the interior décor of any bathroom, wet room or kitchen. With gloss or textured finishes, we offer a range of natural stone, precious stone and marble effects.

As an alternative to using end caps, our Classic waterproof wall panels and kitchen splashbacks can be 'lipped' with a PVC edge to complement your chosen decor.

Classic Collection is available in sizes: 2400 x 1200mm, 2400 x 900mm or 2400 x 598mm.

11mm thick waterproof panel consisting of bonded high pressure laminates and 9mm hardwood plywood.

Create discreet connection between panels with Hydrolock joint.

Hydrolock or Unlipped panels with matching laminate edging strips available to order.
Overall Rating
This product has 0 trade

Reviews
This product has 0 trade

Questions
This product has 0 trade

Video Reviews

0 Results

0 Results

0 Results