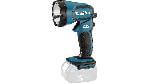 Makita BML185 18V Cordless Torch
( 33 Reviews )
We are currently unable to show all models available.
- Rubberised soft grip of ergonomic design.
- 4 position pivoting head.
- Replacement Xenon bulb.
- Falling impact strength of 1m.
- 18v torch for use with lithium ion batteries
- Weight : 0.36kg
Overall Rating
This product has 33 trade

Reviews
This product has 1 trade

Questions
This product has 0 trade

Video Reviews

33 Results

1 Results

0 Results
Not really a question but I've recently bought an LED cree bulb for my torch. Wow what an upgrade at only £10! Well worth it and doesn't blow like standard bulbs when you knock the torch over.
Asked on 13th June 2019 by S3 Heating and Plumbing
---