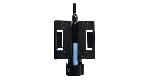 Baxi IFOS
( 13 Reviews )
We are currently unable to show all models available.
The Baxi IFOS in flue outdoor sensor is compatible with all Baxi combi boilers, it is an easy and cost effective way to comply with the requirements of Boiler Plus, when combined with a time and temperature control.

IFOS can be fitted to any horizontal flue, regardless of the aspect of the wall, because it fits under the air duct and is kept out of direct sunlight. And the cable runs back to the boiler through the flue air duct, so you won't have to drill any walls to route unsightly cables.
Read more
Show less
Baxi IFOS has 13 trade

Reviews
Baxi IFOS has 0 trade

Questions
Baxi IFOS has 0 trade

Video Reviews

13 Results

0 Results

0 Results